Ingredients (serves 5-7):
1 tbs Olive or avocado oil or butter
16 oz Mushrooms (any kind) finely sliced1
lb ground beef
½ onion diced
2-3 garlic cloves minced
1 cup Heavy cream
1/3 cup sour cream
2 tbsp flour
1 cup beef broth
Salt, pepper, paprika, Worcestershire sauce, fresh parsley, dill or cilantro for garnish

Preheat a deep pan (cast iron would work great) over medium-high heat with oil. Add ground beef and stir to break down into tiny pieces. Add onion, garlic and spices. Sauté until the onion is translucent and golden brown. Separately sauté mushrooms with spices. Add sauteed mushrooms to the pan with beef. Add flour and stir. Add beef broth, whipping/heavy cream, 1 tbsp Worcestershire sauce, salt & pepper and bring to simmer. Turn the heat to low and simmer for about 5 min. Remove from the heat and add in sour cream. Stir to combine. Add more spices if desired, garnish with your favorite greens. Serve with potatoes, rice, your favorite pasta or buckwheat. Enjoy!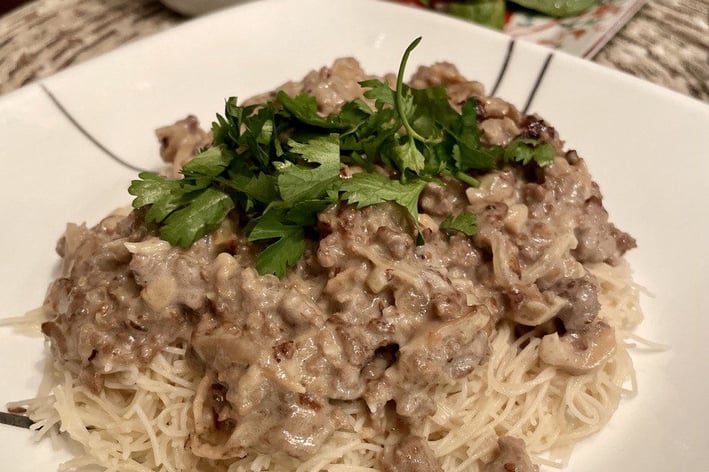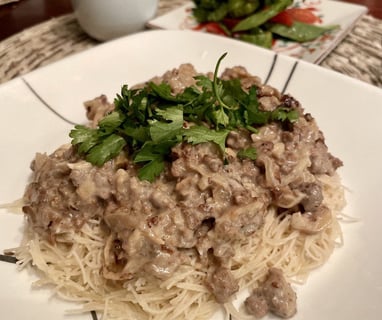 ingredients for 8'x'8 baking dish (serves 3):
2 tbs Olive or avocado oil or butter
8 oz Oyster mushrooms medium sliced
Bunch of spinach,
fresh or frozen 3-4 eggs
¼ cup heavy cream
Salt, pepper, paprika, fresh chives or green onions, minced garlic (optional), shallots (optional)
Preheat Oven to 375F. Spray or coat baking dish with oil. On a skillet fry sliced mushrooms, until golden brown, add salt and pepper as desired. Add spinach and garlic or shallots. Sauté until spinach wilts. Crack eggs, spacing them through the dish. Pour heavy cream and generously sprinkle with parmesan cheese. Place in oven for 15 minutes. Once out sprinkle eggs with paprika and salt salt (truffle salt works great, if you have any), garnish the dish with green onions or any greens you have. Enjoy!
Baked (Shirred) Eggs with Oyster Mushrooms & Spinach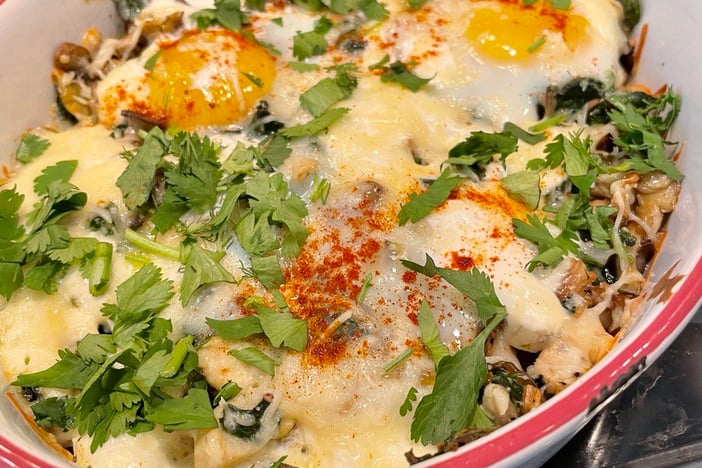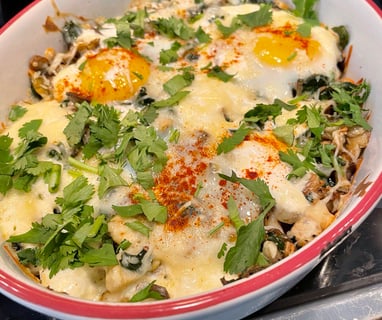 Ingredients (serves 4-6):

2 tbs Olive or avocado oil or butter
1 lb of mushrooms (any kind) medium sliced
½ of white or yellow onion
3 potatoes,
medium handful of shredded carrots
Salt, pepper, paprika, fresh chives or green onions, minced garlic (optional), shallots (optional)
Sauté the mushrooms (cut into 1/2 to 2/3 of an inch), stirring occasionally, 10-15 minutes. Closer to the end – add paprika, curry or any spices you like. Add a bit of salt. Add desired amount of water or broth. Then simmer them for about 20-30 min and add potatoes and shredded carrots. Separately sauté finely chopped onions, add to the soup at any time. Cook until potatoes and carrots are done. Add a lot of greens (cilantro, parsley, dill). Serve hot, with a dash of sour cream (optional) and Enjoy!

Optional twists:

- Any kind of spices you like. Pretty much everything works- Rice or buckwheat (previously cooked) can be added to the soup to make it more of a meal - Soup can be put through the blender/food processor. We like ours with some chunks still in there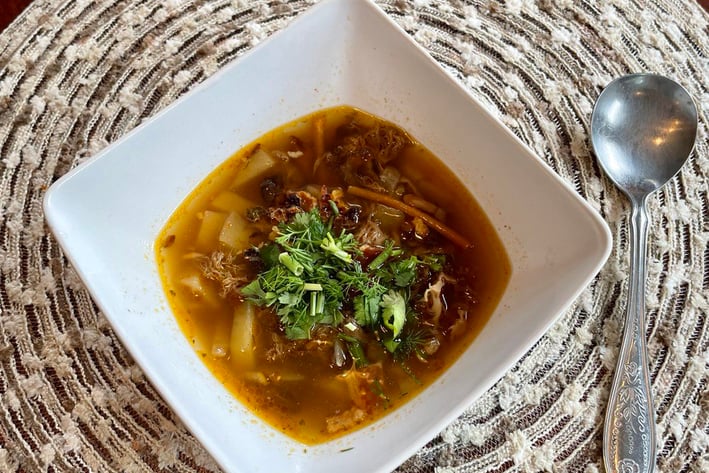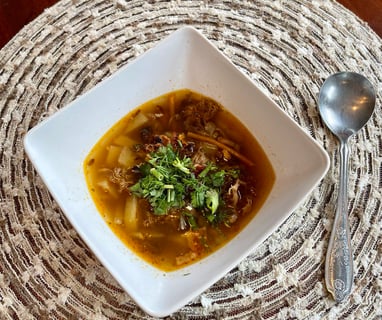 Dutch Oven Rack of Lamb with Mushrooms
(One Pot Dish)
1.5 lbs Fresh raw mushrooms (black pearl, lions mane,blue oysters, shiitake – mix of any of them)
3-4 tbs of olive or avocado oil
1-2 lbs lamb ribs
2- 4 ea strips of bacon2
medium size onions
1.5 lbs potatoes, cut in 1-1.5 inch pieces or halved if using baby or fingerling potatoes
Rosemary sprig, salt, pepper, paprika, Italian seasoning, sour cream, horseradish.
Pre-heat oven to 400F. Cut the mushrooms in small, ¼ inch pieces. If using Lion's Mane you can pull it apart in pieces instead of cutting. Heat Dutch oven on a high heat with the oil. Slice bacon in half lengthwise and then cut into 2 inch pieces. Mix with the mushrooms and put on the bottom of the Dutch oven. Cook, stirring frequently, until mushrooms are soft and bacon is starting to brown, about 15 min. Add onions and cook for another 5-10 minutes. Add spices (paprika, salt, pepper, Italian seasoning). Meanwhile, rub your ribs with your favorite rub. Salt, pepper and paprika would work great too. Using the spatula move mushroom-bacon-onion mix on one side of the Dutch oven and use the freed-up surface to brown lamb on both sides (about 1-2 min on each side depending on how think the cut is). Once the lamb is browned, move it on top of the mushrooms, add potatoes and a rosemary sprig, close the lid and put it in the oven for 45 min.
Serve with a dash of sour cream and horseradish. You can also make your own horseradish sauce by mixing sour cream and horseradish together (1 tsp of each per person). Garnish with fresh dill, cilantro or parsley.
Enjoy!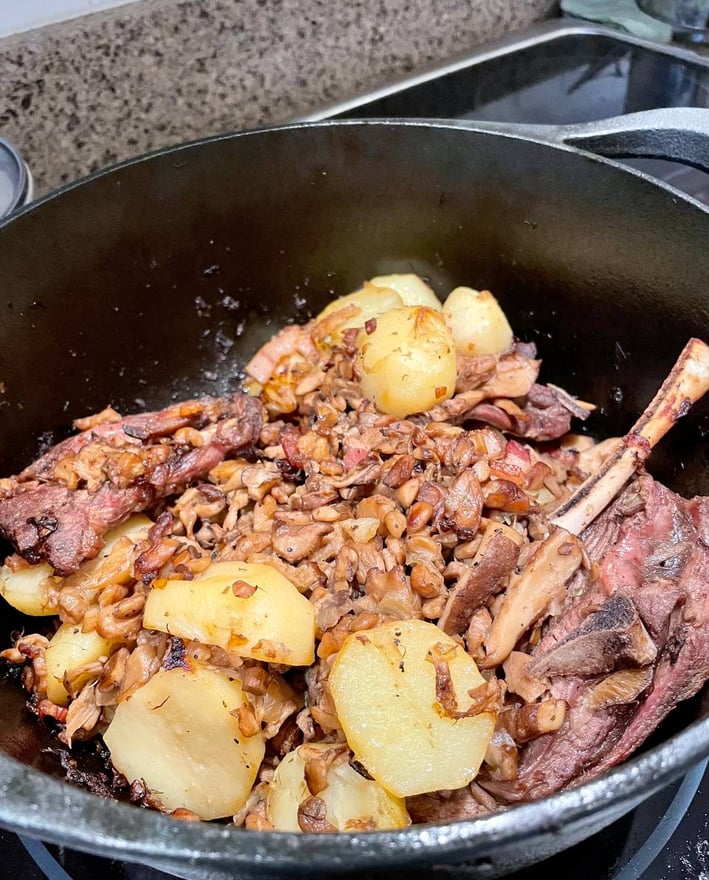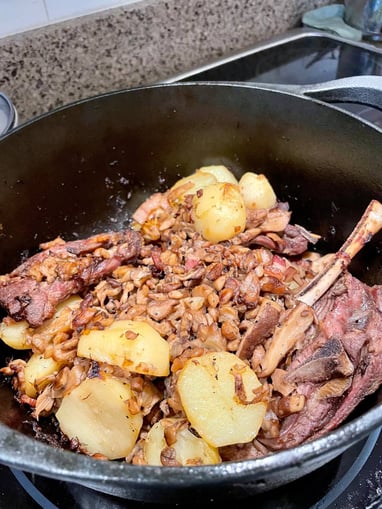 Mushroom Pate (Easy Way)
1 lb Fresh raw mushrooms (black pearl, blue (or any) oysters, shiitake – you can mix of any of them)
4-8 tbs of olive or avocado oil (you can it mix in with or use only Ghee/ butter, if desired)
2- 4 tbs ricotta or mascarpone (or similar type of) cheese
1 ea medium or large shallot
3-4 ea Garlic cloves
Rosemary sprig, salt, pepper, paprika, Italian seasoning.
Optional: truffle oil, truffle salt
Have milk, kefir or sour cream on hand, in case need to make the food processor going. All of these can be plant based, if desired.
Cut mushrooms in small to medium size chunks, cutting stems into smaller pieces. Sauté mushrooms slices your favorite way – with olive/avocado oil and/or ghee and/or butter and Italian seasoning. Make sure to add rosemary sprig, sliced shallot and minced garlic. Let it cool.
Place ½ sautéed mushrooms and some cheese into the food processor. Discard rosemary sprig. Try to blend, if it is too sick – add kefir and/or a bit of milk (can be cow milk, goat milk, oat milk (used already and love it) or any other milk of your choice, including plant-based variety). Blend until smooth.
At any point add salt, pepper, paprika/old bay seasoning to your taste.
Tip – add a dash or two of a truffle oil and/or truffle salt to have everyone raving about it!
Spread on your choice of bread.
Enjoy!